I'm seriously behind on my blogging - I've got half a dozen things jotted down with notes to blog about them sometime... I've been delaying mentioning the Django Sprint until the main bug I worked on is closed (ahem... )
Ah well - some random snippets from the last week or two:
The last thing I need to do to get a final inspection on my addition is build a step from the new back door down to the new patio - a distance of 16 inches. I drew up some rough plans for a little deck step with 45 degree wings that would look nice and ran it by my dad as I was borrowing his truck. No go, he says - code requires (and I should have looked at my plans before messing around) a 36" landing at the full 16" height outside the door, than 3 steps with 1 foot tread and at least one handrail. All this to span the 16 inches.
I had to redraw my plans and significantly upgrade my budget - here's the rendering of the frame for the first level of the landing + steps: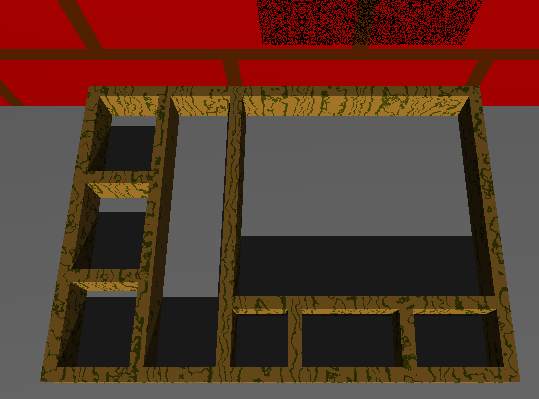 Yes I know Sketchup would be a more appropriate tool than POVRay - but SketchUP doesn't run on Linux and POV-Ray doesn't require that I learn some weird UI like every other 3d modeling/2d CAD program out there.
Speaking of construction - I went to the annual Customer Appreciation banquet at American Lumber the other day. We've been going to the dinner for several years - it's real guys night out with a dinner consisting of meat and your choice of several different sides of meat. Nothing like Tri-Tip with a side of BBQ chicken, pulled pork, and smoked salmon... They have served alcohol at least the last couple of years that I remember but I've never been tempted too much by the Bud/Coors on tap selection. Contractors' tastes must be going upscale, however, since this year the choices were Fat Tire Belgian Ale and a Blue Moon Wheat Beer. Good stuff - just too bad that I continue my record of futility in failing to win even a T-Shirt in the post-dinner raffle...
I think the battery on my cordless Skil-Saw is about charged up so I'll get back to it. Coming soon - articles on using Web Service API's from SmugMug (yea!), UPS (hmmm. A little clunky) and producing and consuming QuickBooks XML (yikes!)
Posted on September 29th 2007, 11:14 AM