The Liberty Bell Next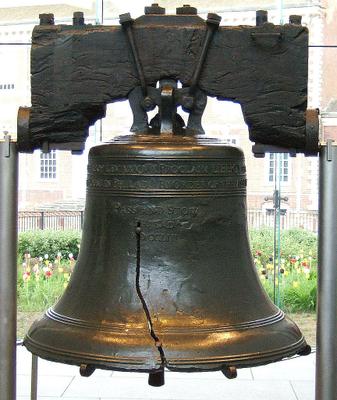 The Liberty Bell is an iconic symbol of American Independence, located in Philadelphia, Pennsylvania. Formerly placed in the steeple of the Pennsylvania State House (now renamed Independence Hall), the bell was commissioned in 1752, and was cast with the lettering (part of Leviticus 25:10) "Proclaim LIBERTY throughout all the land unto all the inhabitants thereof." It originally cracked when first rung after arrival in Philadelphia, and was twice recast. In its early years, the Liberty Bell was used to summon lawmakers to legislative sessions and to alert citizens to public meetings and proclamations.
Can you answer the following questions?
(Click the question to see the answer)
The Liberty Bell lives in

Philadelphia Pennsylvania.

The Liberty bell was rung to celebrate the reading of

the Declaration of Independence.
Source: http://en.wikipedia.org/wiki/Liberty_Bell