The Washington Monument Next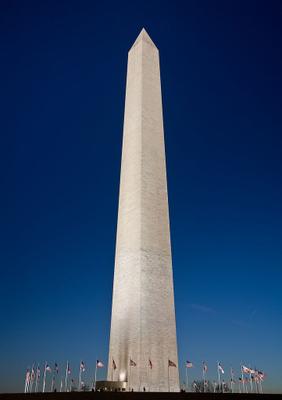 The Washington Monument is an obelisk near the west end of the National Mall in Washington, D.C., built to commemorate the first U.S. president, General George Washington. The monument, made of marble, granite is both the world's tallest stone structure and the world's tallest obelisk, standing 555 feet 5 1⁄8 inches. There are taller monumental columns, but they are neither all stone nor true obelisks. It is also the tallest structure in Washington D.C. It was designed by Robert Mills, an architect of the 1840s. The actual construction of the monument began in 1848 but was not completed until 1884, almost 30 years after the architect's death.
Can you answer the following questions?
(Click the question to see the answer)
The Washington Monument was built to commemorate

the first President, George Washington.

The Washington Monument is the tallest stone structure measuring

over 555 feet.
Source: http://en.wikipedia.org/wiki/Washington_monument